Mar/27/10 07:57 PM
Seal Sitters is saddened to report that the yearling Sea Star, who hauled out yesterday morning and spent the night on Alki Beach, passed away around 2 pm this afternoon. Photos of the yearling were sent to NOAA and WDFW yesterday and analyzed by specialists. It was agreed that there was nothing to substantiate extreme concern. She was thin, but not as thin as many weaned yearlings after a long winter. She showed no signs of respiratory issues, such as coughing or discharge from the eyes, nose or mouth. Her respiration was in the normal range.
Sea Star was alert yesterday which is also a very positive sign. The fact that she did not return to the water overnight was not considered terribly unusual. Seal Sitters has protected several pups that spent equally long hours on the beach, with overnight stays. It was not necessarily a bad omen that she was less alert this morning after a long, cold night. The consensus was that she would continue to be observed and, if still on the beach tomorrow morning, would be taken to PAWS for evaluation and treatment. One never wants to remove a viable, healthy animal from the beach and put them through the stress of riding an hour on a freeway in the back of a vehicle - unless deemed absolutely necessary.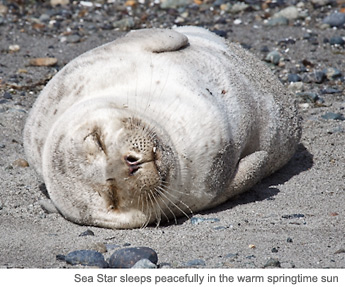 Sea Star showed an interest in returning to the water around noon today and was very, very slowly working her way to the water's edge. However, at approximately 2 pm volunteers could not see her breathing. After receiving official authorization to do so, a SS volunteer moved closer in order to check for visual signs of a heartbeat. When one was not obvious, it was confirmed that she had died.
A volunteer drove Sea Star's body to WDFW's office where a necropsy was performed late this afternoon. We have just learned the yearling was female and there was no obvious cause of death. She was small for a yearling (about four inches shorter than a typical yearling) with a thinner than normal layer of blubber. She had food in her stomach and showed a very mild incidence of parasites, but not a significant enough infestation to cause pneumonia or death. WDFW reports that tissue and blood samples will be sent to a lab for analysis in hopes of determining the cause of her death. Seal Sitters will post those findings once the tests are completed. Seal pups have only a 50% chance of surviving their first year.
Thank you to all of the volunteers and a very respectful public, some of whom spent hours observing throughout the night. Sea Star was truly a special ambassador for her fellow pinnipeds. Her two days on our beach brought together strangers for the common cause of taking care of and recognizing a precious and kindred spirit. Sea Star died here protected by neighbors who kept watch. She did not die alone - she was among friends.