Jun/25/17 06:48 AM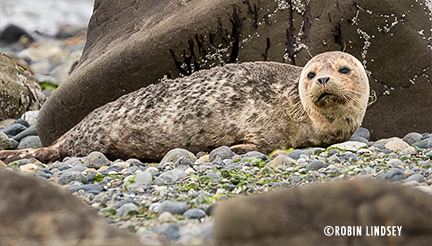 Seal Sitters volunteers have been trying to go with the flow for over a week now in West Seattle, as two (possibly three) harbor seal yearlings have been swimming ashore at various times each day along westside beaches. Early Saturday, the 17th,
First Responder Robin
followed up on a report of a seal near the Alki Lighthouse. She found a dark-coated yearling, sound asleep high up on the rocky beach and taped off the area to prevent access.
Brand new
Seal Sitters volunteers Kelsey and Allison,
virtually oozing enthusiasm, came down to help protect their first seal, who was nicknamed
Wonder
(above). A steady stream of volunteers in shifts looked over Wonder until the seal, born last year, returned to the water around 3:30.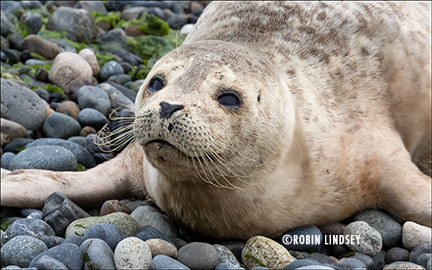 The following day, Wonder was back onshore, nestled deep into the pile of large boulders beneath the Coast Guard lighthouse. After Wonder left the shore, a few hours later, a second yearling lighter in color was discovered slumbering a little closer to the point. Dubbed
Mystery
(at right), he/she stayed until dark, finally leaving the beach at almost 9pm. Volunteers carefully picked their way over the large rocks and headed home.
While Wonder has continued to haul-out every single day, requiring many volunteer and responder hours, Mystery has not been sighted for several days. Both seals are exhibiting signs of respiratory issues, with coughing, discharge and parasites - common to young seals after their first hard winter.
Thanks to the many volunteers, schedulers and first responders who have spent long hours trying to safeguard these two yearlings, as well as a potential third who hauled out two evenings but was not identified due to darkness.