May/27/16 02:17 PM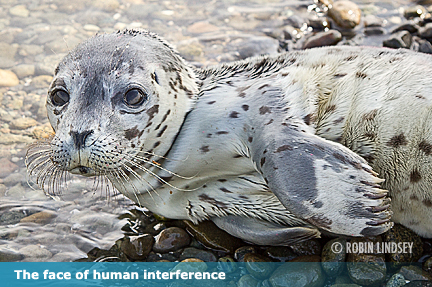 Harbor seal pupping season is in full swing along the Oregon and Washington coastline.
Seal pups are now being born on the outer coast. All pups this time of year in Washington are nursing and are dependent on their moms for survival.
Holiday weekends are definitely no party for wildlife, especially newborn seal pups. Humans and dogs cause pups to be abandoned every year. Harbor seal moms are very shy and often will not return for her nursing pup if there is a disturbance or perceived threat. This is a reminder that when you venture out to the beach, whether by trail or boat,
please respect animals' space and need for quiet.
Stay back!

Please stay a minimum of 100 yards away from resting seals
. Like all marine mammals, they are
protected from harassment by the Marine Mammal Protection Act and Washington State law RCW 77.15.130
(a criminal misdemeanor, mandatory court appearance, punishable with up to 90 days in jail and up to $1000 fine).
Pups pay a terrible price for human disturbance. The seal pup shown above was found in 2012, starving on Cutts Island, along with two other emaciated pups and several dead ones. All had been abandoned by their mothers because boaters disrupted the seal colony on this small South Puget Sound island near Gig Harbor. A day of boating fun for people can be a death sentence for seal pups. During boating season, thousands of boats can be moored offshore at Cutts disrupting this historic harbor seal
haul-out
(called a
rookery
during pupping season).
When you are boating or kayaking, please stay far away from resting harbor seals.
If you find a spot for your picnic on a beach near a harbor seal, please move your picnic to another beach. There are reports of people with blankets and coolers surrounding a lone seal pup - finally calling the stranding network wondering why the mother did not return.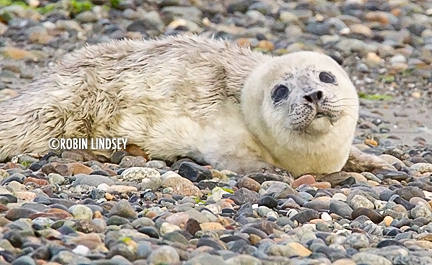 In the inland waters of San Juan de Fuca and Puget Sound, premature or
lanugo
pups are beginning to show up on shore. Lanugos, like seal pup "Luigi" at Alki Beach (photo left), are identified by their long, wavy white fur which is typically shed in the womb.
A harbor seal mom, shy and wary of humans, will abandon her pup if people and dogs are around!
Use common sense and help protect wildlife from harassment and abandonment.
Please respect nature and stay back. Leave seal pups be. If you are concerned about a pup, call the NOAA hotline @ 1-866-767-6114. To learn more about harbor seals and pups, visit Seal Sitters website
here
.