Jun/08/14 09:59 AM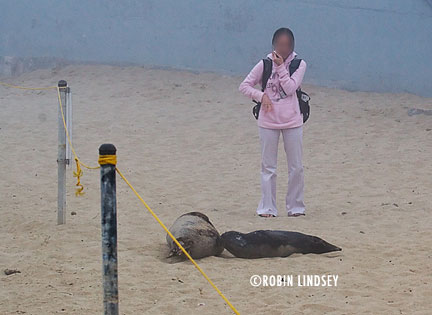 In an on-going struggle to protect a harbor seal colony from harassment in the San Diego suburb of La Jolla, you can help by writing a letter of support to the California Coastal Commission.
Recently, in a huge win for the seals, the San Diego City Council voted 6 to 3 in favor of annual seasonal closure of Casa Beach during Southern California's harbor seal pupping season, from December 15th-May 15. This "closure" refers to a rope barrier which is established on the beach a short distance from the resting colony. People are still allowed down on the beach, but are denied access to the seals and entry into the water.
The controversy over the right for harbor seals to use an urban beach to rest, give birth and nurse their young has been going on for decades (see Seal Sitters
dedicated webpage about Casa Beach
). Many anti-seal protesters regularly harass and flush the seals from the beach, putting newborn and weaner pups in grave danger - insistent that the beach belongs to people, not seals - even though there are a number of easy access, nearby beaches for divers and swimmers to use instead. Even with the rope, a curious public is allowed to stand far too close to nursing seals (photo above).
This victory to maintain a rope barrier on the beach is only a temporary step. The seasonal closure of the beach still needs to be approved by the California Coastal Commission. Approval must be granted by August to ensure access will be restricted during the coming winter/spring pupping season (for pupping seasons in Washington State,
click here
).
Please write a letter to the Coastal Commission requesting
permanent annual seasonal closure
of Casa Beach (AKA Children's Beach) in LaJolla. A sample letter suggested by
Seal Conservancy of San Diego
(formerly La Jolla Friends of the Seals) is provided
here
. Please embellish with your personal thoughts about the need to
Share the Shore
with wildlife - and to grant this small sanctuary for marine mammals in LaJolla, while providing an unparalleled educational experience with an unobstructed view from above the beach. Seal Sitters MMSN would advocate that access down to the small beach be
restricted entirely
during pupping season - or at a minimum that the
rope remain on the beach year-round
to ensure the seal colony is not harassed and put in danger. All marine mammals are protected from harassment by the Marine Mammal Protection Act.
The harbor seals of Casa Beach need you to be their advocates! Please write the California Coastal Commission before August. For the latest news on this issue and a link to thank the 6 members of the San Diego City Council who supported the seals, visit the
SCSD
website.
Mar/20/13 08:51 AM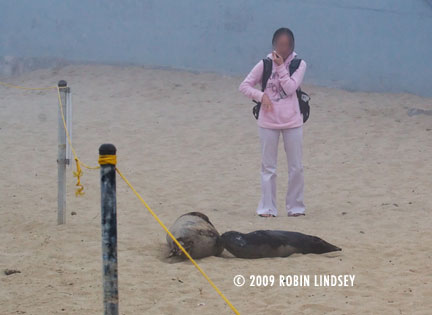 Seal pup Shamrock and other West Seattle seal pups like rehab Ruby are lucky to have so many caring people with a common desire to protect them. Harbor seals in other areas are not so lucky at all - most especially those at a harbor seal
haulout
and rookery at Casa Beach (also known as Children's Pool) in La Jolla, California. People are allowed on the beach as shown in this photo, causing undue stress to resting seals and regularly flushing the haulout which endangers the lives of newborn pups.
A small number of residents of this affluent San Diego neighborhood want the seals removed from the beach so it can become a public swimming beach - they regularly harass the seals. However, the majority of residents appreciate and want to preserve the rookery. Casa Beach is one of only four harbor seal rookeries left on the Southern California coast. There are many, many public beaches along the nearby coast for humans to enjoy, including one within walking distance of Casa Beach. Local wildlife advocates have been fighting for many frustrating years now to get local and federal governments to step up and protect the seals. Finally, it was agreed that a rope barrier would be established on the beach during pupping season, but that has not stopped the abuse.
Recently, a web cam was established on an old lifeguard tower to enable the public to view seals giving birth on the beach; harbor seal pupping season is in full swing in Southern California. The night vision camera recently caught
two women beating and sitting on seals
, many of them pregnant, and the incident has caused outrage. NOAA has not been yet been able to identify and prosecute the women.
Yesterday, the mayor of San Diego, Bob Filner, ordered the beach and sea wall closed to people at night. However, the public is still allowed down on the beach during the day, with harbor seals just a few feet away giving birth or nursing their young.
Seal Sitters has covered this story since our lead investigator visited the rookery in 2008, returning the following year as well to document moms and their pups. Read our complete coverage of this controversial situation
on our website
. And, please
email Mayor Filner
thanking him for closing the beach at night, but encouraging him to close Casa Beach (Children's Pool) year-round to people and preserve this wildlife treasure. The public has an unparalled view from the sea wall and sidewalk above the beach.
Our West Seattle seal pups are so very lucky to have a stranding network (with a supportive NOAA Northwest office) and public committed to keeping them safe while on our shores. We know that undisturbed rest is critical to harbor seals' survival and they
will
be protected under our communal watch.
UPDATE 3/21/13
For the latest news regarding this story, please visit our
dedicated website page
.
CNN has a feature story on the abuse at Casa Beach on their website today. Click on the link below:
(CNN) SEAL VIDEO BRINGS NATIONAL SPOTLIGHT ON ANIMAL ABUSE