Sep/03/13 06:18 AM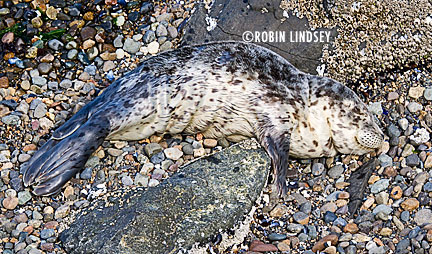 If you're talking a walk along the shoreline of West Seattle, whether it be the west side's Alki Beach, Constellation or Lincoln Park - or catching a spectacular view of the Seattle skyline from the harbor side - seal pups are popping up all over. Yesterday, the hotline received a call of a pup at Jack Block Park.
Our responder found a small pup nestled in the rocks with an in-coming tide. Future beach naturalist, 6-year old Brix was exploring the beach and stumbled upon the pup. Seal Sitters volunteer Linda and her family were out enjoying the beautiful day as well and called the hotline. Her son Henry named the sleeping pup Buttercup. The photo of the pup here (health assessment photo taken with telephoto lens) shows how the pebbled coats of harbor seals effectively camouflages them on shore - all the more reason to be alert when you walk the beaches.
A perimeter was set up to allow Buttercup a bit of space to rest, yet still allow the public access out onto the pier to fish and enjoy the City view. A very quiet and respectful throng of folks asked lots of questions of volunteers who looked after the pup in shifts throughout the day into the evening. Just as darkness fell, Buttercup returned to the Sound in search of dinner and volunteers were able to go home for a very late dinner themselves.
So far, in this early stage of pupping season, the pups we have watched over have been too thin. They need every bit of quiet rest they can manage on our urban shores. Thanks to the volunteers who helped out yesterday!