May/17/15 04:38 PM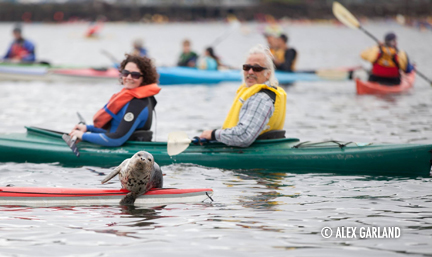 Hundreds of activists assembled a flotilla of kayaks, canoes, paddleboards and boats on Seattle's Elliott Bay yesterday to protest Royal Dutch Shell's plans to drill in the Arctic Ocean, one of the few remaining pristine habitats for marine life. Many hoisted signs as they gathered in front of an ominous 307 foot tall oil drilling rig, bound for Alaskan waters. The platform arrived amid political controversy at the Port of Seattle's Terminal 5 on Thursday.
The only levity on this somber occasion was the appearance of a young harbor seal who hauled out to rest on a protester's kayak (photo courtesy Alex Garland). It is more than appropriate that this tiny seal represented the many marine mammals - polar bears, whales (including endangered fin, humpback and bowhead), walruses, and seals (ribbon, bearded, ringed and spotted) - as well as birds and other sea life that are at risk if the critical habitat of the
Chukchi Sea
is opened for oil exploration and potential environmental catastrophe. Read NRDC's take on the Department of the Interior's admission that there is a
75% chance of a major spill
if there is drilling in these remote, challenging waters.
To see more of photojournalist Alex Garland's images of the day,
click here
. For more information on the demonstration,
read the Seattle PI story
.
Thanks to everyone who took a stand yesterday and emphatically voiced their opposition, "Shell No." The harbor seal is believed to be the same one Seal Sitters has observed in the waters near Jack Block Park recently.