Jul/11/10 08:02 AM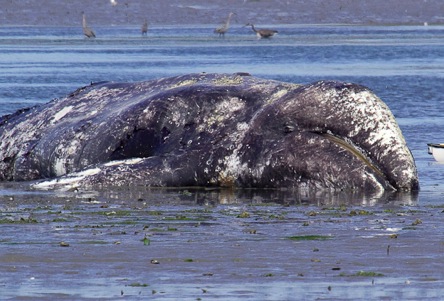 (see updates at end of story)
The Everett gray whale stranded yesterday in Tulalip Bay on the Tulalip Reservation. Members of Seal Sitters, Sno-King Marine Mammal Stranding Network and WDFW responded to the scene. The mud flats of the bay restricted access to the whale which lay exposed to the extreme sun and heat. As the tide came in, however, the Tulalip Bay Fire Department zodiac managed to get a pump close enough to keep the whale wet and cool. A borrowed canoe allowed a stranding team member to get sheets to the scene so the whale could be covered and more protected. The tide finally covered the whale about 2pm. The Tulalip tribes honored the whale and prayed for him to get well. The repeated stranding behavior of this adult whale is indicative that he is most likely dying. The gray was spotted by NOAA on Saturday at 4:30 at Spee-Bi-Dah heading north into Port Susan.
See related gallery of photos
.
UPDATE:
7/13/10 Transient orcas were seen attacking the gray whale yesterday afternoon (Monday).
Related story and video
.
7/12/10 The gray was spotted this morning (Monday) at 6:30 am heading east toward Camano Island.
Jul/09/10 05:29 PM

A gray whale stranded yesterday morning in Everett off Harborview Park. It is believed to be the same whale that has been feeding in the Everett area for some weeks now. NOAA had responded to earlier reports of a stranding at this location, but the whale had managed to swim free before the stranding expert arrived.
Yesterday, however, the whale was marooned on the beach at low tide. Concerned neighbors in shorts and swimsuits assisted in keeping the exposed whale wet and cool. However, as the water rose and the whale became more active it became too dangerous for them to continue to help. Members of the NW Stranding Network (above photo from left, Jessie Huggins of Cascadia Research, Kristin Wilkinson of NOAA, and Brian Chittick of Snohomish-King County Stranding Network) labored for hours pouring buckets of water over the whale - until finally the incoming tide created a water level deep enough that he could swim free. They then boarded a boat with a team from WDFW Marine Mammal Investigations and monitored the whale until 2pm when he finally left the shallower waters and headed out into the strait.
Early this morning the whale stranded again and the Stranding Network responded. Approximately 2:30 this afternoon he was in 7-10 feet of water as the tide came in. NOAA is not optimistic about the whale's survival based on his behavior and weakened condition.
May/09/10 08:01 AM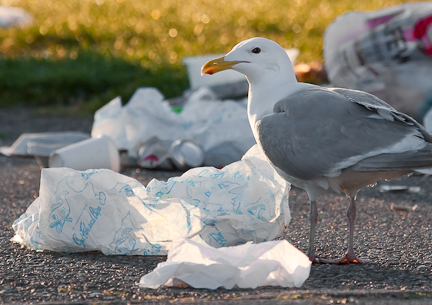 On her 6am beach sweep this morning looking for seals, our photographer and first responder was shocked and angered to find Alki Beach by the bathhouse littered with trash. Four barrels were surrounded by garbage - paper plates smeared with ketchup and mustard, cups, plastic bags, plastic forks, plastic coke bottles. Seagulls were picking through the litter trying to find food. Small plastic ketchup packets were strewn over the sidewalk and beach. Our volunteer picked up all the trash that was scattered on the beach and along the water's edge. The irony did not escape her when she picked up paper wrappers labeled "Spud's Fish and Chips" on virtually the same spot of beach where our first seal pup, Spud (named for the restaurant), hauled out.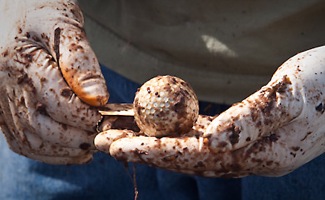 After the high profile and disturbing necropsy of the gray whale whose stomach was filled with human trash (ranging from sweat pants and plastic bags to a golf ball - photo at left), one would hope that it would have been a wake-up call to people of the dangers of polluting our waters - and the tragic impact it has on our marine mammals and other wildlife. Countless sea birds have died worldwide with stomachs full of plastic bottle caps. Litter that is on the sidewalk and beaches blows into Puget Sound and Elliott Bay, becoming marine debris that harms sea life. There is a swirling mass of plastic trash twice the size of Texas in the Pacific ocean, dubbed the
Great Pacific Garbage Patch
. Please consider getting involved to help keep our West Seattle beaches and coves free of dangerous litter. Last spring, after reading on our website that
seals and other marine mammals ingest plastic bags
and suffer an agonizing death, second grader Etienne and her Bush Middle School class organized a beach cleanup field trip to Alki Beach.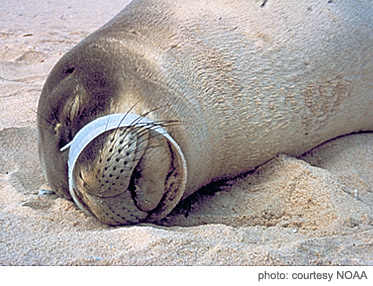 Perhaps other local schools would like to follow suit. If you run or walk along Alki with friends, take a few minutes before or after your exercise and pick up some litter. Parks Dept. can only do so much and they don't have staff on early weekend mornings or in the evenings. If you have a business on Alki (or are involved with a local school or civic group) and would like to work with Seal Sitters to organize "Adopt Alki Beach" for a day a week/month, please
contact us
.
Something needs to be done now to protect our wildlife from pollution.