Oct/06/09 06:26 PM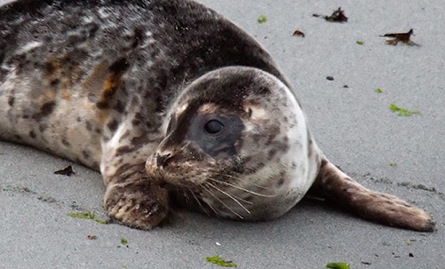 Sadly,
PAWS
has reported that "Luna" died sometime during the night Friday (Oct 2nd) or early Saturday morning. Luna apparently had a worm infestation, but the necropsy (or autopsy) results have not yet been released. Hopefully, that will shed light on any additional health implications, such as a virus or pneumonia. The two lacerations inside his mouth are considered as possible wounds from fishing apparatus. SS will post any updates regarding pathology findings.
Luna is shown here returning to the Sound at first light on September 24th, robust and with no telltale signs of health issues. Unfortunately, a pup's health can rapidly deteriorate and often leads to death within only a few days. The mortality rate of seal pups is 50%. A weaned pup is particularly at risk because they are not getting proper nourishment. They are still trying to learn the skills of how to catch food and survive. The blubber fat storage that they gained from nursing is gradually consumed for energy. As they become thinner and weaker, their immune systems are compromised and they become prime targets for opportunistic parasites and infections. Seal Sitters cannot stress enough the importance of letting these little pups have undisturbed periods of time onshore. Because, truly, the seemingly healthy pup you see today, could be in serious jeopardy tomorrow.
Oct/01/09 03:02 PM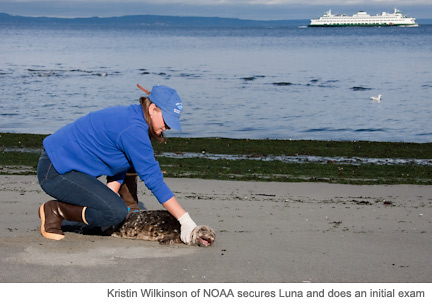 A weaned male pup nicknamed "Luna" was taken for treatment at PAWS early this morning by NOAA Stranding Expert Kristin Wilkinson. Based on photos sent for evaluation yesterday afternoon, a decision was made to remove him from the beach.
Luna had hauled out daily at a West Seattle beach over the past week or more, returning to the water to forage on a regular basis ~ typical behavior for a seal pup. He was chubbier than most of the pups we have had on our shore thus far this season. However, his haulout pattern changed over the last few days and he was more reluctant to return to the water to feed. He began to lose weight and exhibited signs of compromised health ~ green discharge from the eyes, nose and mouth. Yesterday's photos revealed what appeared to be fishing line from his mouth; however, this morning no line was found. Kristin stated upon exam that he was bleeding from a wound in the mouth that could have indeed been caused by fishing gear.
Read More...