Aug/12/12 08:58 PM
Boaters, kayakers and jet skiers: Please be aware that locations where harbor seals gather are sensitive and vital areas - and disturbances to seal colonies can be devastating for newborn pups. Many Puget Sound islands have state parks with seal
haul outs,
where the animals gather in numbers to rest and, this time of year, give birth and nurse their young. Adult harbor seals are extremely skittish and the slightest disturbance can cause a stampede into the water, often leaving vulnerable pups alone on shore. If people land watercraft or swim or picnic close to a pup, the mom may well abandon him. On a state park island last year, WDFW Marine Mammal Investigations' biologist found a group of picnickers surrounding a pup and was told they were "waiting for the mom to return." It is no surprise that the mom never did.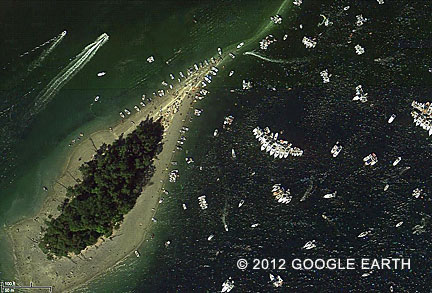 This week, our lead responder accompanied that biologist on observations of South Puget Sound harbor seal
rookeries
. Responding to a report of a dead seal pup on that same small island with a known seal colony and a history of conflict with recreational boaters, we found two dead pups as well as three that were emaciated and weak, but alive - and several boats and a number of people way too close. We were told that just before we arrived a man tried to put one of the pups back into the water (one of many instances, we are sure). There is
no
chance a mom will return to take care of her pup under these circumstances. At right is a photo which shows the tiny island on a typical August day - a virtual flotilla of boats and people (click on the Google Earth photo to enlarge). There are reports of 100 boats at this island on a weekend.
This video shows seals fleeing from a nearby South Puget Sound rookery - as an eagle lands near them. You can imagine their terror when a boat lands on their beach.
Enforcing the
Marine Mammal Protection Act
in remote areas is challenging. Park rangers are few and far between and access to respond to islands is especially difficult. Signs that are posted are either torn down or graffitied beyond recognition. It appears that too many humans feel that their "right" to be in nature supersedes animals' rights to survive in their daily life and death struggle. We are dependent upon the public to spread the word that
no matter where you are
, if you encounter a marine mammal on the beach, you are to stay 100 yards away. If someone is harassing a pup on the beach, call Seal Sitters' hotline @ 206-905-7325 (SEAL) immediately and we will contact the proper authorities. Take a discreet photo of a boat showing license number - NOAA Office for Law Enforcement has a better chance of prosecution with physical evidence. Do not put yourself in harm's way. If you find a pup that appears to be abandoned, keep your distance and call the hotline.