Nov/25/13 10:51 AM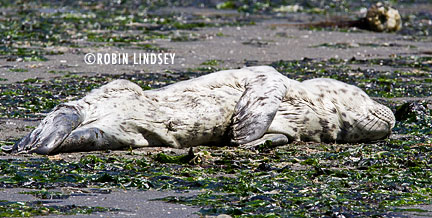 Seal pup Snapper, rescued from the beach just south of Constellation Park in early August (shown at right) ,was released back into the wild last week. The extremely emaciated male pup, weighing just over 19 lbs, was taken to
PAWS Wildlife Center
where he spent months building strength and gaining weight under the care of wildlife rehabbers.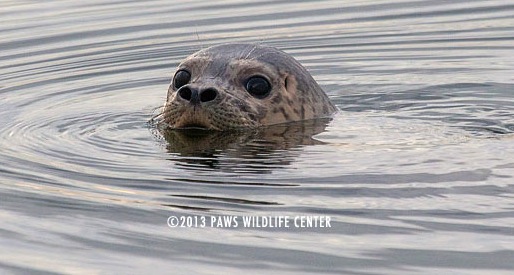 PAWS reports that a Coast Guard auxiliary crew assisted in releasing the pup, sporting an identification tag on his rear flipper, near Everetty's Jetty Island, an area with a well established harbor seal haul-out. Snapper is shown here looking back at the boat as he swims off to get a second chance at life.
We are thrilled to report that Snapper weighed a whopping 73 lbs when released - a true blubberball. This fat layer will help sustain the pup as he learns to forage in the huge expanse of Puget Sound. Huge flipper hugs to PAWS' dedicated and amazing staff and the Coast Guard!
Feb/16/12 09:47 PM

Sandy, the rehabilitated satellite-tagged seal pup, is expanding her horizons in South Puget Sound. After being
released
near a harbor seal haul out a couple of weeks ago, she stayed pretty close to her new island home. But over the past two days, she has ventured much farther south - to Budd Bay near Olympia, where there is a huge log boom used by seals year-round to rest and, during pupping season, give birth and nurse their young. In fact, it's such a distance that there was speculation she might have hitched a ride on a passing log boom being towed south by a tugboat. Seals do often hop on log booms as they cruise by, take a snooze and wake up many miles from where they started.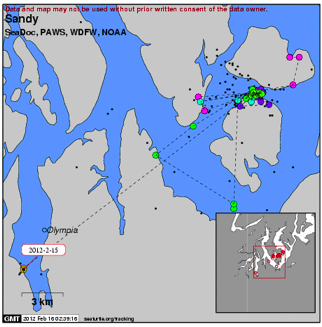 Sandy's beacon tag gives location hits depending on the number of satellites in the area and whether Sandy is on land or underwater when a satellite is near. Based on the most recent data (more detailed than the map shown here), WDFW's marine mammal biologist was able to determine that it was more likely that she swam to her new location. Dr. Joseph Gaydos from SeaDoc Society says, "We've seen other seals (satellite tagged pups) move even greater distances in shorter periods of time. They can ride the current, which as you know can be quite powerful in places. That combined with swimming can really propel them!" The great news is that Sandy is choosing areas that have lots of seals, so she appears to be adapting well to life in the wild.
You can follow Sandy's travels on SeaDoc's website. In fact, you can even get an email alert when passing satellites pick up her signal. Check out Sandy's dedicated page
here
. And, if you happen across a log boom, grab your binocs and see if there is a seal or two catching some zzzz's - maybe you'll even see Sandy with her fancy yellow hat!
Jan/31/12 05:52 PM
On August 14, 2011, Seal Sitters MMSN responded to a pup in West Seattle that was just a few weeks old and named her Sandy. The pup spent that night on the beach under observation. The next morning, the pup was extremely weak and barely responsive, with numerous infected wounds and no apparent mom. She was severely dehydrated and malnourished to the point of emaciation. Seal Sitters transferred her to PAWS Wildlife Rehabilitation Center for stabilization, treatment and care. On Friday, January 27, after five months of rehabilitation, she was released near a harbor seal haul out in South Puget Sound. Sandy will provide invaluable data to the network.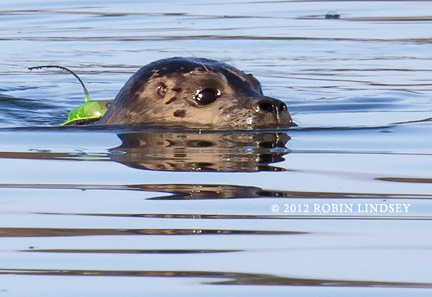 Every year harbor seal pups that strand and are rehabilitated are released back into the wild. Last year, 10 rehabilitated pups provided novel data on how these animals move post release as compared to wild seals. Sandy, an older rehabilitated weaned pup, will be the first of this age class to be tracked by satellite in Washington State. The video above shows her being fitted with a satellite transmitter and released back home to the Salish Sea.
Sandy's movements will provide ground-breaking information for biologists. She can be tracked by the public as well on SeaDoc Society's website, which has a
web page dedicated to her
, showing a map of her cruising around South Puget Sound. In the photo above, Sandy swims in the wild with her new satellite hat. Tracking this animal would not be possible without the collaboration of several network groups which include: Seal Sitters MMSN,
PAWS Wildlife Center
,
WDFW Marine Mammal Investigations
,
SeaDoc Society
and
NOAA's Protected Resources Division
.
PUPDATE: Feb 2/2012
We have had some folks with concerns that the satellite tag is somehow harmful for Sandy. The tag is applied with glue to Sandy's pelt and will fall off when she sheds her fur during molting season in a few months. Most likely, the tag will fall off before then; however, in the interim, the satellite tracking will provide researchers with insights into foraging patterns, distances travelled by weaned pups and health and mortality data. This research will help other seal pups in the future.