Jan/20/10 05:08 AM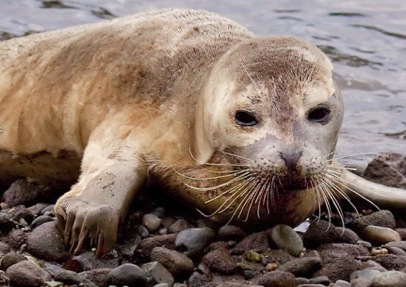 Seal Sitters provides response to special situations in other Puget Sound neighborhoods when time and staff permit. We have responded to strandings where there was limited or no local support, such as Burien, Des Moines, Tacoma, Bainbridge Island and Discovery and Carkeek Parks in Magnolia (where a volunteer spent several hours Sunday evening protecting a pup from people and dogs). Yesterday was yet another such response, as SS received a call from a Magnolia veterinary clinic reporting a pup on a Ballard beach. Apparently the pup had been hauled out for two days and was listless. SS responded, taped off the beach access with "protected marine mammal" tape, observed the pup and sent assessment photos to NOAA. The pup had a beautiful golden coat with virtually no spots, was thin but alert. No evidence of discharge was seen. The lion-coated pup was nicknamed "Nala" by our responder, meaning "gift" in Swahili. SS awaits assessment from NOAA regarding this pup.
If you would like SS and NOAA to help you develop a stranding group in your area, please
contact us
. We would be more than happy to share our learning experience and insights.