Aug/23/13 07:09 AM
Seal Sitters volunteers have been kept on the run from 6am til after dark most days so far this week. On Tuesday, we had a pup, nicknamed Curly for his/her long and curvy whiskers at the north end of Lincoln Park. A newly weaned pup, Curly spent the night on the beach, but returned to shore after only a brief early breakfast. He settled in for another snooze, but left soon thereafter.
Just about the same time Tuesday afternoon, seal pup BellaBaby returned for the second day in a row to Emma Schmitz viewpoint park. Bella snoozed throughout the night, but was gone the following morning. Volunteers watched after both pups until darkness fell. Due to safety concerns for our volunteers we do not usually stand guard all night, especially in remote locations such as Lincoln Park.
Wednesday was a crazy day for volunteers. After Curly returned to Puget Sound at Lincoln Park, we received another call about a pup near Cormorant Cove. This pup was terribly thin, but managed to crawl across a long expanse of open beach back to the water.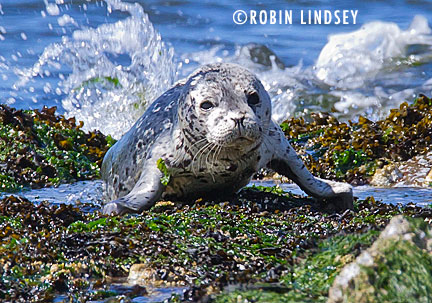 Immediately afterwards, the hotline received a call about a pup at Constellation Beach (Charles Richey Viewpoint Park). Whipping on a pair of dry socks, our responder quickly arrived to meet the reporting party, Mark and his 6 year old son Matthew. This pup was high on the beach and Matthew helped get a large perimeter taped off around the sleeping pup.
Matthew named the pup Wilson after his "Granda Wilson." Wilson (photo left) was reluctant to return to the water even as the tide swept over him. Just when we thought he might go out foraging for food, he scooted further up on the rocks. As an attentive and delighted crowd watched from the sidewalk, Wilson snoozed just below them until late that night. We believe now that Wilson might not be weaned based on photos of a partial yawn showing that not all of the teeth have erupted. Hopefully, there is a mom out there who will help him pack on some much-needed blubber.
We received a report yesterday afternoon that a group of 8 "teenagers" with 2 pit bulls went under the tape and down the ramp around midnight. The witness called 911, but wisely did not confront the group and left the area. We are following up with the SW Precinct on this report. There was no evidence of foul play at the scene yesterday morning, but we did not see Wilson all day. We can only hope that if Wilson was still on the beach, this tired and thin pup was able to escape harm.