Sep/10/13 12:51 PM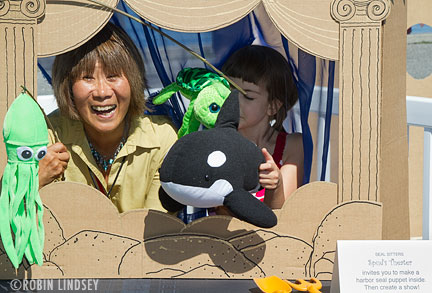 An estimated 300 people took part in the festivities on "Harbor Seal Day" Sunday afternoon, as Seal Sitters hosted an event celebrating the dedication of Georgia Gerber's "Sentinels of the Sound" sculpture of a harbor seal mom and pup.
The Alki Bathhouse was filled to the brim with educational exhibits and children creating jellyfish, seal puppets and other cool sea creatures. Shown at right is one of Seal Sitters' first responders and talented artist Lynn Shimamoto (with her 6 year old grandaughter) in the puppet show booth she created for kids to enjoy. Just outside, lots of folks had fun posing for photos, poking their heads through the painted underwater scene (check back for a gallery of submitted photos - email your photo of the puppet show or underwater scene
here
).
See the post here for Art and Story contest winners and the great donated prizes the kids won.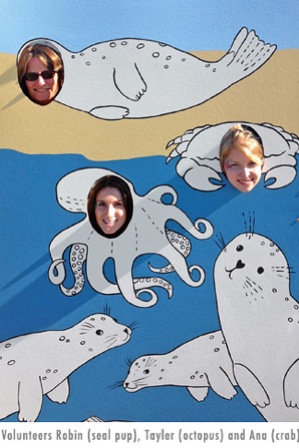 FLIPPER HUGS TO OUR HARD-WORKING VOLUNTEERS
Many, many hours were devoted to the day's event and many thanks to all of the awesome volunteers who helped out in the weeks before the event, designing posters and displays, craft projects for children, posting flyers and getting word out to the media. And to those who helped out Sunday, picking up the many specialty cakes, setting up (and breaking down) chairs, stages, tables, artwork, helping exhbitors - all the tasks that go into pulling off a major event. Everyone who helped deserves huge kudos.
Special thanks as well to Chas Redmond and Tony Fragada who donated their time to provide professional sound for the event.
FLIPPER HUGS TO OUR FANTASTIC EXHIBITORS
Our outstanding exhibitors included the Seattle Aquarium, Puget Soundkeeper Alliance, The Whale Trail, NOAA Marine Debris Division, Tox-ick, NOAA Marine Mammal Stranding Network and Sno-King Marine Mammal Response, PAWS Wildlife Center (with a fascinating inside look at seal pup rehabilitation), Killer Whale Tales, Soundside Marinelife Rescue. Huge thanks to all of you who donated your Sunday afternoon to help us celebrate and educate the public! So many people remarked how wonderful the exhibits were and how much information they gleaned from those staffing the tables.
FLIPPER HUGS TO OUR RAFFLE PRIZE DONORS AND PROMOTIONS
Local businesses generously donated great prizes to help Seal Sitters raise money to fund our on-going operating expenses, including dedicated hotline costs, webhosting fees, and stranding and educational materials. Donors included Alki Kayak, Mountain to Sound Outfitters, Phoenecia Restaurant, NW Art and Frame, Bakery Nouveau, Sunfish Seafood Restaurant and Saigon Boat Cafe.
Spud Fish and Chips,
Bamboo Bar and Grill, Subway on Alki and Hotwire Coffee
ran special promotions to benefit Seal Sitters.
QFC Bakery on 42nd Ave SW and Baked Seattle donated specialty cakes for the event. West Seattle Thriftway and Seattle Costco donated gift cards used for food for volunteers and exhibitors. Saigon Boat Cafe provided delicious sandwiches for hungry volunteers, too. Starbucks on Alki donated coffee to keep us going for the day.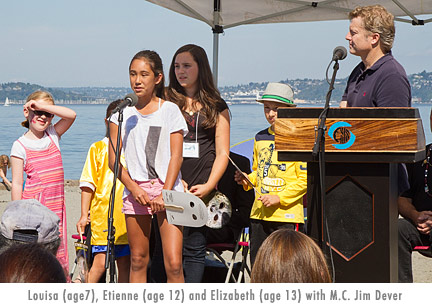 FLIPPER HUGS TO OUR GUEST SPEAKERS
Master of Ceremonies Jim Dever (of Evening Magazine fame) was the perfect "host" for our dedication ceremony. His witty interlude with young Seal Sitters was a highlight of the program. Kid vols Etienne, Elizabeth and Louisa answered questions with great poise and authority.
We were honored to have Ken Workman (great-great-great-great grandson of Chief Sealth) of the Duwamish give a welcoming message. National Geographic author and co-founder of Seal Sitters Brenda Peterson gave an engaging overview of our work. Many thanks to Department of Neighborhoods' Bernie Matsuno and State Representative Joe Fitzgibbon for respectively reading Mayor McGinn and Governor Jay Inslee's "Harbor Seal Day" proclamations.
HUMONGOUS FLIPPER HUGS TO ARTIST GEORGIA GERBER
Georgia's stunning work, "Sentinels of the Sound", will grace Alki Beach for many, many years to come and raise public awareness of the need to share the shore with all wildlife. We cannot begin to express our gratitude.
Click here to download the "Harbor Seal Day" Program
listing all participants and acknowledgements.
MEDIA COVERAGE
Both the West Seattle Herald and the West Seattle Blog gave the event generous coverage in weeks leading up to and day of the event. Thanks to Patrick Robinson (WS Herald) and Tracy Record (WS Blog) for your on-going support! Please visit their links below.
West Seattle Herald (article and slideshow): http://www.westseattleherald.com/2013/09/08/news/slideshow-sentinels-sound-sculpture-dedicated-alk
West Seattle Blog (photos and video): http://westseattleblog.com/2013/09/video-photos-harbor-seal-day-report-2-seal-sitters-big-splash