Sep/15/12 07:30 AM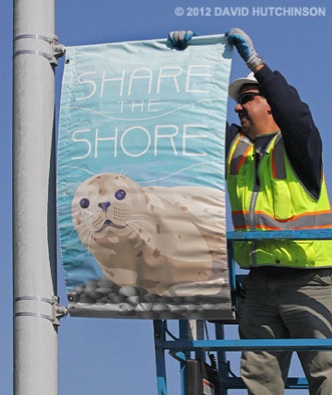 Seattle Parks employees Dan and Rudy (shown here) installed Seal Sitters' Share the Shore banners on street poles along Alki Beach on Wednesday. The banners are the result of an in-kind Department of Neighborhoods grant we secured in 2010. Read more about the banners and artist
here
.
The banners serve as a reminder that September and October are the height of harbor seal pupping season in South Puget Sound - and that it is not uncommon to encounter a resting pup on the beach.
The 10 banners are the culmination of a Seal Sitters' educational outreach project that included the installation of informational signage about seals and seal pups in locations across West Seattle. NOAA has extended that beach signage across the region. Read more
here
.
Huge thanks to Seattle Parks for hanging the banners and helping to make this project possible. And thanks to volunteers David and Larry for coordinating the installation.
Aug/29/11 09:31 PM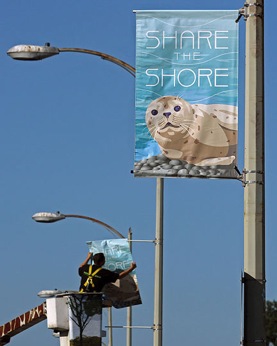 Early Thursday morning, Seal Sitters' street banners were hung on lightpoles along Alki Beach. The project was the result of an in-kind grant award from the City of Seattle Department of Neighborhoods and celebrates the arrival of seal pups on our beaches. The banners serve to remind beachgoers that we do indeed need to "share the shore" with these smallest of marine mammals. The banners will be displayed September - October, the height of pupping season in South Puget Sound. Artist
Nancy Stahl
created this beautiful illustration from a Robin Lindsey photograph of seal pup
Shanti
, resting at Golden Gardens. Many thanks to Nancy for this stunning banner - and to Seattle's DON for the award that made this project possible. Additionally, we want to give huge thanks to Seattle Parks for their cooperation and extreme generosity and to banner manufacturer SuperGraphics. (photo courtesy David Hutchinson)