Sep/26/09 12:07 PM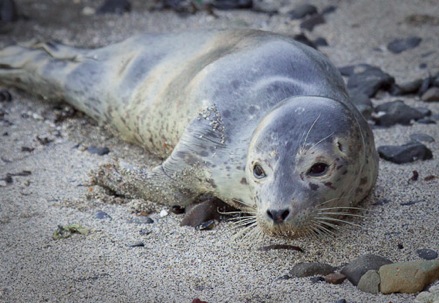 Seal Sitters is very saddened to report that the little pup nicknamed "Alki" died Thursday morning at Jack Block Park. With the authorization of Port of Seattle authorities and NOAA, our volunteer recovered the body from a somewhat inaccessible beach in order that a necropsy be performed by Fish and Wildlife. Alki was a weaned female, age 1-3 months. Seal Sitter volunteers watched over Alki day and night in a monumental effort to protect her from harm. We would like to thank J.D. of Port of Seattle for her assistance with the retrieval of Alki's body for necropsy.
SS photographer Robin has posted her thoughts regarding this precious seal pup's life and death:
"Upon examination, when Dyanna told me she could be only a month old, I was shocked. Even though I knew a pup could be weaned at 4 weeks and she was quite small, I was just taken aback. With Alki's body in my car, I had cried virtually all the way down to Tacoma thinking if only we had been able to save her. After Dyanna's comment, I cried most of the way back home, thinking we probably could not have saved her, but humanity could have served her better..."
Read More...