Dec/03/11 10:42 AM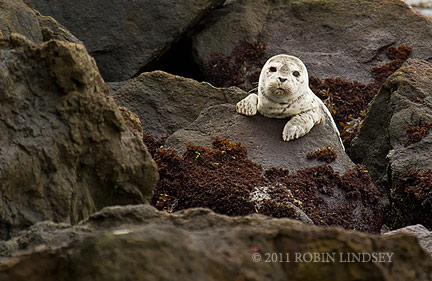 Spanky found himself in a bit of mischief yet again yesterday. He picked out a rock beneath the sea wall in the morning, intending to settle in for a nice long nap. Under the watchful eye of Seal Sitters and the public he was able to do just that for about 4 hours. However, mid-afternoon Spanky repositioned himself on the craggy, vertical rock. We held our collective breath, afraid we'd have a repeat performance of his
fall deep down into a hole
in the rocks some weeks ago. Spanky's body dropped behind the rock, but he wiggled around and seemed to settle in, but was resting at a very strange angle (above right). Was he stuck? We couldn't tell from our vantage point behind the yellow tape and the pup drifted off to sleep.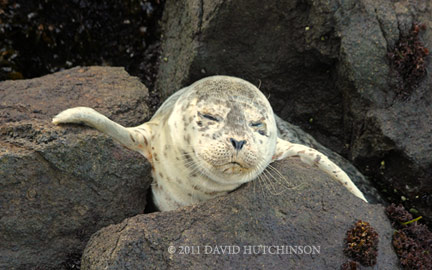 Not too long after, though, Spanky got restless and was trying to climb out of the hole, to no avail. He didn't have the strength to lift his body out with such tiny flippers. We quietly sneaked to the edge of the seawall above him for a peak at his predicament. Sure enough, he had managed to wedge his rear end and flippers into a small, but deep crevice (photo left). After a quick discussion among ourselves about tidal concerns, it was decided that we needed to intervene. With the help of volunteers our investigator lowered herself over the sea wall and carefully traversed the slippery bolders to reach Spanky. A very calm Spanky analyzed this strange being who was now on the rocks next to him. Lifting him up out of the hole was going to be tricky without getting bitten. And Spanky quickly turned to defense mode when he realized what was up - twisting and biting at our responder in self defense. After a few minutes of finessing, she was able to get him under control and boosted him out of the hole. The pup rested on a lower rock at the water's edge and then returned to the Sound, much to the relief of volunteers and observers. Both Spanky and the responder escaped unscathed.
We want to remind the public that only certain authorized personnel from the NW Marine Mammal Stranding Network are allowed to handle a seal pup. It is a violation of the Marine Mammal Protection Act to touch, feed, move or otherwise disturb a seal. It can also be a dangerous endeavor as these are wild animals capable of inflicting a serious bite. If you see Spanky along the sea wall, please remember to keep your distance for his safety and call Seal Sitters. This little one seems to have a penchant for trouble and we want to keep him safe and healthy.