Apr/25/13 07:28 AM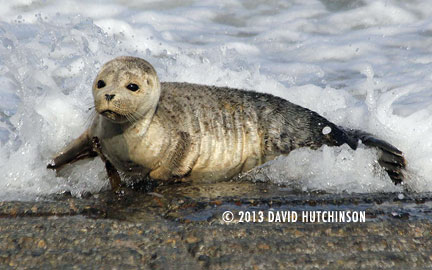 An intrepid harbor seal pup kept volunteers on their toes, trying to anticipate when and where the active
weaner
would show up next on a crazy Wednesday.
The day began with a report of a pup at the small cove near Salty's restaurant. Our responder quickly was on the scene and taped off a perimeter. Soon after, the pup returned to the water, but only briefly before popping ashore at the north end of Harbor Avenue. Along the way, she enjoyed a short stop at Don Armeni boat ramp - keeping our first responder scrambling. Nicknamed Kellogg (after the pop tarts), she returned to Elliott Bay when the tide forced her from the beach. Kellogg headed south and ended up back at the boat ramp (photo above) where boaters were very cooperative in efforts to help the thin pup get some rest. They launched quietly from the opposite ramp. Finally, the exhausted pup settled in for a lengthy snooze late into the night as volunteers watched over her in shifts. The boat ramp area can be quite active at night with people and vehicles.
The pup was still on the beach at sunrise this morning, but returned to the water for breakfast around 6:30 am. Ever on the move, Kellogg came back to Don Armeni a bit later, left at 10 am and, thankfully, was sighted around noon on the protected beach at Jack Block Park - a much safer location. It was an exhausting and stressful two days for our responders. Thanks to the many volunteers for protecting this pup, obviously in need of time on shore to rest and warm up!