Aug/07/13 10:05 AM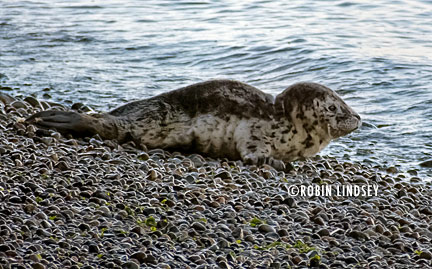 About 8pm Monday evening, hotline operator Sharon answered a call about a seal pup on the beach north of Colman Pool at Lincoln Park. Several concerned folks watched over the pup until our responder could get on site. She found a horribly skinny pup resting soundly near the sea wall. A tape perimeter was quickly established on the path, but before tape could be stretched on the beach a couple approached with their large dog. At our request, they did remove the dog from the beach, but the woman insisted it was a "public beach" and it was her right to continue walking past the pup. After a terse exchange, she did finally detour up onto the walking path.
Yes, this is a Seattle public beach (and, therefore, dogs are NOT allowed), but it is also a beach that wildlife has a right to use, too. This exhausted, emaciated pup desperately needed a place to rest and it is hardly unreasonable to ask someone to go a few yards out of their way to help a wild animal survive. Not to mention, the Marine Mammal Protection Act protects these animals by law. Having already rescued a newborn pup early that morning because of human harassment resulting in abandonment, our responder was in no mood to have this struggling pup harassed as well.
Volunteers watched over the pup until dark, who spent the night on the beach and returned to the Sound about 8am Tuesday (see photo). Later in the day, we received a call from NOAA that a listless pup was at Cormorant Cove. The male pup, nicknamed Snapper and weighing just 8.8 kgs, was taken from the beach to
PAWS Wildfife Center
and is confirmed by spot identification to be the same Lincoln Park pup.
It is unfortunate to have to report that all of the spaces for rehabilitation are now full - almost all of the seal pups at PAWS had to be taken there because of human interference. This means that there are no options for helping seal pups for possibly up to two months - seal pup rehab is challenging, lengthy and expensive. NOAA wants these few spots reserved for animals that have been victims of human interaction - whether fishing gear injuries, illegal removal from a beach, causing abandonment by a seal mom, etc. If there were fewer cases of human interference, we would have more options to help other emaciated seal pups like Snapper.
STAY AWAY FROM RESTING SEAL PUPS!
Yesterday, an abandoned pup had to be relocated from a small island to a nearby harbor seal rookery in hopes another nursing mom will adopt him. When the biologist arrived on
Cutts Island
, there was a family sun-bathing within feet of the tiny, skinny pup. Is it any wonder mom did not return when this island's small seal colony is continually harassed by boaters who party within feet of them?
PUPDATE:
8/7/13
Sparkle, the newborn pup abandoned near Alki Beach due to harassment, is stabilized at PAWS and was outside in a pool yesterday morning. Snapper had an infected wound on his flipper (being treated by antibiotics), but thus far his most daunting battle is recovering from being so underweight.
9/9/13
We are so sad to report that Sparkle was euthanized at PAWS on September 9th. Veterinarian Dr. John Huckabee believes Sparkle's immune system was not functioning properly, as she struggled the entire time she was there with digestive issues, ear and other infections and a heart murmur.