Sep/03/13 11:54 PM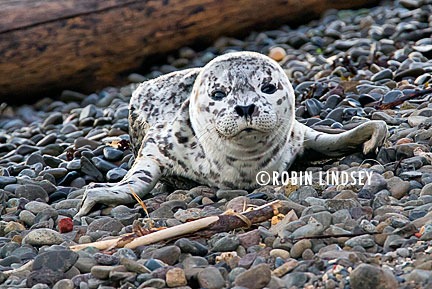 Seal pup Fudge, estimated to be between 3-5 weeks old, is making the rounds on West Seattle's beaches. First observed on Sunday near Colman Pool at Lincoln Park, the pup came ashore early this evening near the Water Taxi just after high tide. Thanks to the Ma-Kai employee who called the hotline so we could "seal" off the small beach and ensure he wouldn't be scared back into Elliott Bay.
An enthralled stream of boat commuters returning from downtown Seattle oohed and ahhed over the stunning little pup. Fudge managed to catch some "z's" even with the roar of traffic along Harbor Avenue and excited chatter of onlookers. Big thanks to the scuba divers who entered the water from the far end of the cove, through a small tape corridor we established. We're still trying to determine if Fudge is on his own or if a mom is still in attendance. Stay tuned for an early morning "pupdate".
NOTE: We had initially thought this was seal pup Butterball who rested at Jack Block Park yesterday, but further comparison of markings confirmed it was indeed Fudge.
Sep/02/13 06:08 AM
The past week has been a busy one for seal pups and volunteers trying to protect them. Seal pup Kitten, who first appeared on Alki Beach last Monday, continues to get desperately-needed rest almost daily along on this bustling westside stretch of shore. He has been spending long days and nights to gather strength to forage, including all day Friday into the night on the very busy area by the volleyball courts. Volunteers spoke to hundreds of curious beach-goers over a more than 12-hour period. Increasingly (and alarmingly) thin, the pup spent yesterday under the watchful eye of volunteers and waterfront residents, sleeping throughout the day on private beach near the Lighthouse. With public access at lower tides and issues with off-leash dogs, a small stretch of the beach was closed to help him rest undisturbed. Thanks to the great homeowners who were passionate about protecting this struggling pup!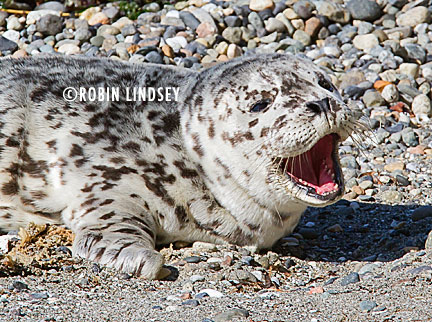 Late yesterday afternoon, the hotline received a report of a pup just north of Lincoln Park's Colman Pool. Responders were on the scene promptly and established a tape perimeter. The small, beautifully marked pup was nicknamed Fudge.
Luckily, we were able to capture a photo of Fudge with a big yawn which showed that all of the teeth have erupted, but some are still on the small size. Teeth are a good indicator of approximate age of a pup and helps us determine whether the pup is still nursing age or on his own. According to WDFW's marine mammal biologist, after reviewing the photo, the pup is between 3-5 weeks old. Since pups can be weaned at 4 weeks, the jury is still out on Fudge - perhaps mom is still in the picture; however, the pup is a bit thinner than we'd like to see for one who is potentially still nursing. Fudge entertained people throughout the afternoon into the evening as he stretched and yawned close to the walking path. Volunteers put in many long hours ensuring he was safe.