Dec/18/09 02:24 PM
Seal Sitters received NOAA authorization this morning to remove a sick pup from the rocks below Salty's restaurant. The pup was driven to PAWS for treatment, but we have been informed that the pup died this afternoon. The pup was suffering from a serious infestation of lungworm, fever and exhibited bite wounds (most likely from another harbor seal, according to PAWS' veterinarian). A necropsy will be performed next week. Seal Sitters would like to thank Simi and his crew from West Seattle Parks for their assistance in capturing the pup and to Salty's for allowing us access through their property. We would like to thank our NOAA stranding expert Kristin Wilkinson and Fish & Wildlife biologist Dyanna Lambourn for their advice and support regarding this pup and
PAWS
for a valiant attempt to save him.
Apparently, the pup had been in distress at this location for a couple of days. SS received a call yesterday about 11:30 am that a pup was being "harassed" near Salty's, but our responder could not find a pup on any of the beaches near there. Later, around 4 pm we received a report that indeed the pup was on the rocks below Salty's ~ not visible from public property. By that time, the pup was in grave jeopardy and SS had limited options to offer help as it was already dark. Photos were sent last night for health assessment and it was agreed that a rescue would be attempted this morning, though difficult in nature due to the location of the pup.
We would like to stress that if anyone sees a pup (or any marine mammal) on shore, please call
Seal Sitters dispatch 206-905-7325 (SEAL)
immediately with
precise information regarding location
. If we cannot find the pup, we cannot help him ~ and time is of the essence.
Dec/18/09 05:01 AM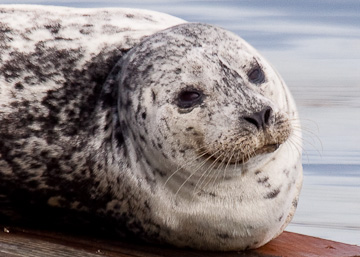 The adult harbor seal who has been resting frequently at a West Seattle park is a female and possibly pregnant. This is according to our Fish & Wildlife expert who analyzed some photos for us recently. The gestation period for a harbor seal is 9 - 11 months, which would just about perfectly coordinate with the pupping season here in South Puget Sound (late June - September). To learn more about the breeding and pupping of harbor seals, please visit the
about harbor seals
page of Seal Sitters' website.
This stunning seal, with her luxurious white coat and black and gray spots, has been nicknamed "Billie Holiday" and brings Seal Sitters great joy this season.
Dec/09/09 05:41 PM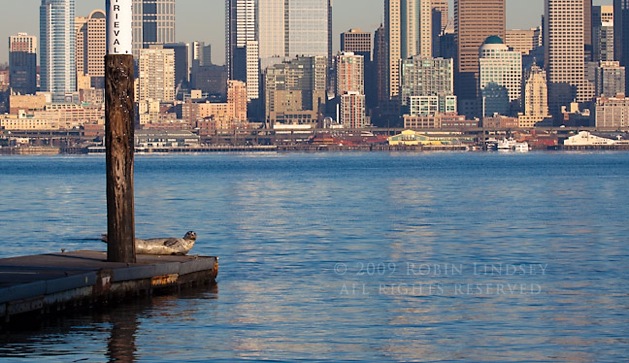 A healthy and very alert adult harbor seal hauled out at the tip of a dock at Don Armeni boat ramp this afternoon. The frigid air was warmed a bit by a bright sun and the seal enjoyed a lengthy and relatively undisturbed rest. An onlooker was asked to refrain from walking down the ramp to take a cell phone photo which would have caused the seal to flee the dock. Please remember that adult seals need their rest, too!