Jul/27/15 05:56 AM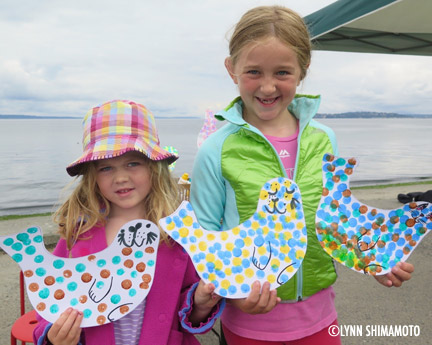 Despite cool and breezy weather (including some much-needed rain yesterday afternoon), the Alki Art Fair was a resounding success for Seal Sitters, whose volunteers spoke with 691 people during the 2-day event on the busy beach promenade.
As ferries passed back and forth before a misty Olympic Mountain backdrop, passersby learned about the varied work of the marine mammal stranding networks and were cautioned that we are now in the throes of harbor seal pupping season.
Along with a fun seal coloring project, created by talented Seal Sitters' artist Lynn Shimamoto (photo of future volunteers Sadie and Stella), a table loaded with outreach materials and seal pelts enticed passersby to linger, learn and chat with volunteers. Countless people stopped to poke their heads through our sea life "photo op" board, snapping photos on their smart phones.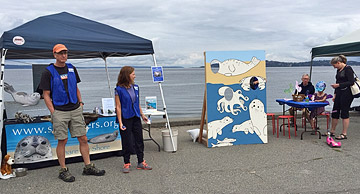 Thanks to all of our volunteers who did such a great job representing Seal Sitters and NOAA's West Coast Marine Mammal Stranding Network.
Special thanks to Seal Sitters' event gurus David and Eilene Hutchinson who put in massive hours, not only lining up volunteers for our table and to help out other exhibitors, but also for being on site the entire weekend.
For the third year in a row,
Spud Fish and Chips,
a
West Seattle restaurant icon located at
2666 Alki Ave SW on Alki Beach
, donated $1 to Seal Sitters MMSN for every cup of chowder purchased during the fair. The donations will be used for our marine mammal stranding and educational outreach activities. Huge thanks to the generosity of Spud Fish and Chips for this fund-raising opportunity - and to those of you who enjoyed a cup of delicious chowder and helped protect marine life.