Sep/22/13 10:09 PM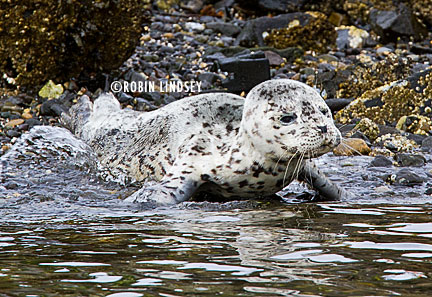 A very thin seal pup captured the hearts of volunteers and the public as they stood watch over him for two days. The pup first came ashore beneath the sea wall on the north end of Harbor Avenue Friday morning, spending several hours resting in the warm sun. He then returned to Elliott Bay and was observed foraging just offshore for some time. This was reassuring, since he desperately needs to pack on some blubber for energy and warmth!
Nicknamed Poco, "little" in Spanish, he reappeared on a tiny bit of beach at Duwamish Head (Luna Park), but the incoming tide eventually forced him to return to the cold waters. Volunteers scanned the east-side shoreline, anticipating his return. And return he did in the early evening - this time to the ever dangerous Don Armeni boat ramp. Responders quickly set up barricades and tape, closing off one of the three ramps, ensuring his safety until he left the site in the wee hours of Saturday morning.
Poco hauled out again at the boat ramp around 6:45 am, luckily well after the many fishermen had launched in pursuit of what remains of the salmon run. Even with one ramp closed, there was little inconvenience to boaters. Save for a few, the fishermen were quite supportive of our work and very gracious about "Sharing the Shore". The pup rested until late morning when a fisherman's truck startled him back to the bay. Poco swam north and came ashore on a small beach for a short time.
Volunteers did numerous checks of Poco's haulouts spots, but we did not see him last night or today. We hope he has found a safe haul-out and finding a food source.