Apr/05/13 06:28 AM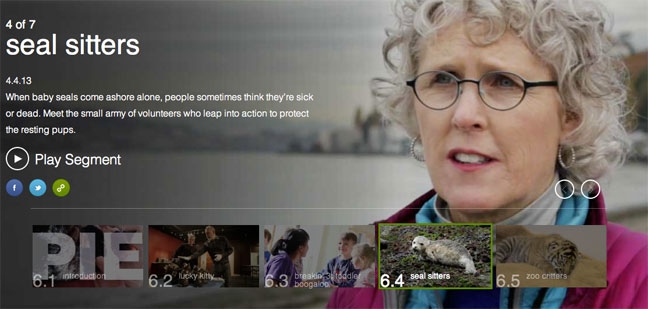 A documentary segment on Seal Sitters, filmed last fall, is currently featured in KCTS-9's email campaign and is airing this week on the PBS program
PIE
. Environmental filmmakers Katie Campbell and Michael Werner covered our story of 2012's higher than usual mortality rate of seal pups on West Seattle's beaches and features volunteers looking after seal pup Lucy at Lincoln Park.
You can
view the segment here
. West Seattle music group Caspar Babypants is also featured on PIE's programming. PIE's airtime on Channel 9 is Thursday 7pm & 11pm, Sunday 5pm, Monday 9pm (times may vary).
Jan/14/13 03:20 PM
The story was prompted by our late October report of a West Seattle seal pupping season with emaciated pups and a
higher than usual mortality rate
for our area (we are happy to say that we ended the year with a wave of chubbier pups). The segment will be airing on PBS, but the audio has already aired on NPR's KUOW and other radio stations. The embedded video shown here is also posted on
KCTS 9's website
along with the script and photos. Many thanks to Katie and Michael for helping to spread the word that, like all wild animals, seal pups are in a daily struggle to survive and need to be able to rest on shore undisturbed.
Oct/13/11 06:26 AM
Seal Sitters and our bumper crop of seal pups are receiving national attention thanks to a feature story by Associated Press. The story which was released yesterday has been picked up on websites nationwide. People in Philadelphia, Boston, Denver, Atlanta, San Francisco and in smaller communities across the US are reading about seal pup Sly and his friends. Many thanks to writer Phuong Le and photographer Elaine Thompson for such a great story!
Read the article here
.