Aug/19/13 10:15 PM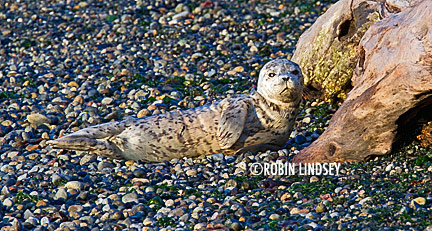 Seal Sitters' hotline has been busy the last two days with reports of pups on the beach. Last evening we received a call from two of our newest volunteers who came upon a pup at Alki near the Statue of Liberty. When responders arrived minutes later, the alert pup was nestled behind a log with curious people too close. The crowd was asked to step back to allow him to settle in and rest.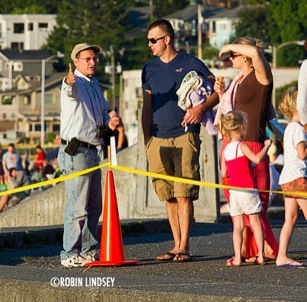 Volunteers such as Dave (at right) talked at length to passersby. Terrianne, on her first day of duty as a Seal Sitter, named the active pup Perky. Perky settled in for a long nap as the sun set and spent a quiet night within the perimeter. He was sound asleep this morning at 5:39am and returned to the Sound about 6:45. Perky had good body weight and appears to be recently weaned.
This afternoon the hotline rang with a call about a pup on the steps at Emma Schmitz Viewpoint Park. Thanks to Jennifer for protecting the pup until we arrived. The thin pup was on the bottom step with the tide lapping against her and returned briefly to the Sound, only to emerge moments later on a very small stretch of beach right next to two young people. Quickly gathering up their belongings, they left the beach to give the pup some much-needed space. Photos of the yawning pup revealed fully erupted teeth, indicating she is no longer nursing on mom's rich milk.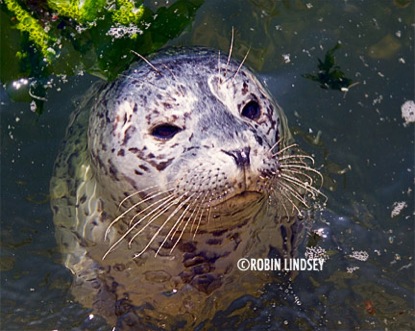 Despite the yellow tape perimeter and signs clearing posting that a seal pup was resting on the beach, the tape was breached. We need to remind people that "harassment" by definition of the Marine Mammal Protection Act is not just poking, feeding, or moving animals. ANY disturbance, even waking a pup, is considered a violation of Federal law.
Nicknamed BellaBaby, shown here taking a dip in the cool Sound on this hot afternoon, the pup rested until after dark under the protective watch of volunteers. These newly weaned pups need all the help they can get from a respectful public in their struggle to survive without mom. Stress-free rest is critical.