May/24/13 07:20 AM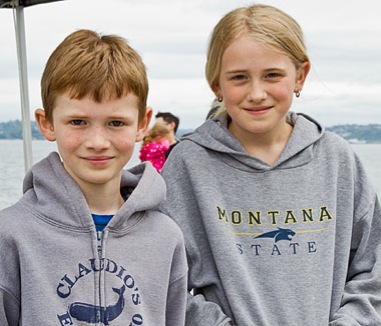 On Sunday, the streets along Alki Beach were closed to motorized vehicles for a 5K run and, afterwards, people were dancing to live music, strolling along the boulevard and checking out the booths of educational groups and vendors. The festive party lasted until 5pm.
Seal Sitters' volunteers staffed a booth at the event and launched our "Seal Ambassador" drive, asking local kids to take a pledge to protect our marine environment. Harrison and Annabelle (shown here), students at Schmitz Park Elementary School, are our very first Ambassadors. Thanks to both of them and the additional 33 kids who took the pledge on Sunday! If you'd like to be one of Spud's Seal Ambassadors,
email us here
.
178 people stopped by the booth throughout the day, learning about seals and other marine mammals, NOAA's Marine Mammal Stranding Network, and Seal Sitters'
Year of the Seal
(YOS) educational outreach project and harbor seal mom and pup sculpture. Our very talented illustrator Lynn created life-size chalk sketches on the street of a gray whale and swimming seal mom and pup, which were a big hit with the public. A table was set up next to our booth, where children colored drawings Lynn created for our YOS project - drawings showing what does and doesn't belong on the beach and in the water. Flipper hugs to our enthusiastic and dedicated volunteers for spending their day doing outreach and helping marine wildlife!