Latest information from NOAA/WDFW regarding sea lion deaths
Mar/09/10 04:43 PM
(text courtesy NOAA/WDFW)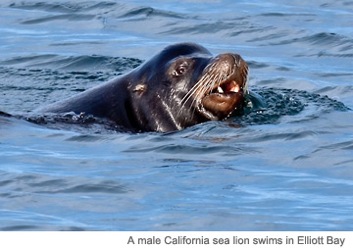 I
n January and February 2010 the Northwest Marine Mammal Stranding Network received numerous calls about dead sea lions in Puget Sound. There were a total of 19 reports of dead sea lions from Kingston south to Olympia. Eleven of those reported have been located and responded to from a number of network responders, which includes Washington Dept of Fish and Wildlife Marine Mammal Investigations, Cascadia Research Collective, NOAA Fisheries, and West Seattle Seal Sitters.
Of the eleven carcasses examined, ten of the animals were confirmed as shot. Two of the animals were Steller sea lions which are threatened under the Endangered Species Act. Eight of the animals were California sea lions and one other sea lion is suspected to have been shot, but could not be confirmed.
All marine mammals are protected by the Marine Mammal Protection Act (MMPA) and shooting these animals is illegal. The NOAA Office for Law Enforcement investigates violations of the MMPA and has a 24 hour hotline to take reports from the public. If you have witnessed a violation, call 1-800-853-1964 and provide as many details as possible (boat registration number, detailed description of the boat or person, any photos you have taken, etc.). It is helpful for the Office of Law Enforcement to have as much information as possible to investigate the violation.
The National Oceanic and Atmospheric Administration (NOAA) Northwest Marine Mammal Stranding Network was established in the early 1980's under the MMPA. NOAA has jurisdiction over whales, dolphins, porpoises, seals and sea lions and would like to be notified of live or dead "strandings" of these species. To report a marine mammal stranding in Washington and Oregon, please contact our 24 hour hotline at 1-800-853-1964.
Members of the network respond to marine mammal stranding events along the Washington and Oregon coasts and is part of a nationwide network. The network is comprised of cooperating scientific investigators and institutions, volunteer networks and individuals. Other organizations also involved are wildlife and fisheries agencies and state and federal law enforcement. Participants are trained in systematic data collection and are experienced in handling a variety of marine mammal stranding related tasks. Data is collected for each stranding event and is included in a national database to establish baseline information on marine mammal communities and their health. Every year there are hundreds of reports of stranded marine mammals throughout Washington and Oregon. Each case can hold important information about the species which can contribute to scientific research or public education.
For more information about the NW Marine Mammal Stranding Network, please
visit the website
and
Seal Sitters
' stranding networks resource.
endnote
What is the definition of "stranding"? Kristin Wilkinson, our NOAA stranding expert explains.
The term "stranding" means an event in the wild in which:
a. A marine mammal is dead and is -
i. on a beach or shore of the United States; or
ii. in waters under the jurisdiction of the United States (including any navigable waters); or
b. A marine mammal is alive and is -
i. on a beach or shore of the United States and is unable to return to the water;
ii. on a beach or shore of the United States and, although able to return to the water, is in
need of apparent medical attention; or
iii. in the waters under the jurisdiction of the United States (including navigable waters),
but is unable to return to its natural habitat under its own power or assistance.