Alki Beach cleanup in honor of seal pup Sandy
Jul/09/12 05:44 AM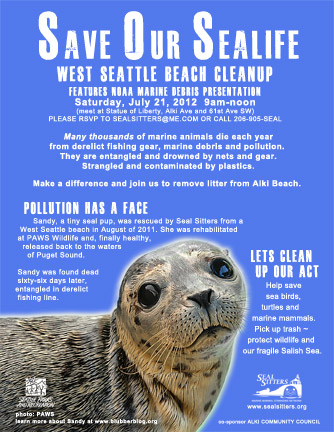 On Saturday morning,
July 21st, from 9 am - noon
, Seal Sitters and Alki Community Council (along with Seattle Parks and Recreation) will sponsor a beach cleanup of Alki and surrounding beaches. This year's cleanups will be in honor of seal pup
Sandy
, who was rescued from a West Seattle beach on August 16, 2011. After a lengthy rehabilitation at
PAWS Wildlife Center
, Sandy was finally released in January of 2012 at an island harbor seal
haul out
south of Tacoma. Sandy was satellite tagged for scientific purposes and her progress in the wild was followed by approximately 600 people throughout Puget Sound. She travelled from South Puget Sound up to the San Juans and back, around Vashon Island, back to the Olympia area and finally up to Edmonds - where she lingered for a bit. After 66 days of freedom back in the wild, she was found dead by divers on a routine
marine debris
cleanup. Sandy was entangled in derelict fishing line near the Edmonds pier.
Sandy the seal pup truly puts a face on the dangers of marine pollution and trash. Please make a difference and join us. Countless thousands of marine animals die as a result of marine debris, trash and pollution. Trash that is on the beach becomes treacherous in the sea. Read
more about marine pollution
on Seal Sitters' website.
Peggy Foreman of NOAA will discuss the dangers of marine debris and pollution shortly after we assemble at 9am. We will meet at the Statue of Liberty (next to the Alki Bathhouse on Alki Beach
61st Ave SW and Alki Avenue SW
). Please
rsvp for this event
as Parks will be providing trash grabbers and buckets for participants.
To print out a copy of this flyer to post at your work or business, please
click here
. The flyer is a full bleed and may need to be set at "reduce to fit" for some inkjet printers.