Shamrock doing a jig around West Seattle
Mar/19/13 08:55 PM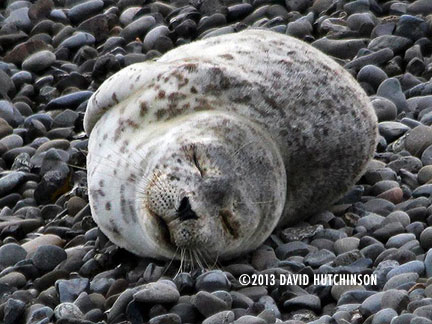 Weaned harbor seal pup Shamrock, who first hauled out on St. Patrick's Day at the public access beach at Jack Block Park, has been making her way around the West Seattle peninsula. Very early yesterday morning, the hotline received a report of a pup resting on the beach just south of the water taxi landing. Photo comparisons showed it was indeed Shamrock. She returned to Elliott Bay early afternoon.
About 2 pm the hotline rang again with another call about a pup that had come ashore at Duwamish Head. The caller kindly kept curious people at bay until our responder could arrive shortly thereafter. Shamrock had moved to the north! Volunteers taped off the beach access and the seawall above her and she snoozed soundly until early evening before swimming off in search of dinner.
This morning, one of our volunteers out walking his dog, noticed a pup on the beach below the sidewalk at Emma Schmitz Viewpoint Park (Me Kwa Mooks). Our first responder was there in minutes, taping off the entrances to the beach stairs so that Shamrock could rest undisturbed. Shamrock is looking too thin, but her activity moving to and from beaches is encouraging - and she is most certainly keeping our first responders and volunteers on their toes! She finally returned to Puget Sound around 5pm this evening.
Please keep your eyes open for this sweet little pup, especially along the beaches of Lowman and Lincoln Park. If you are a waterfront homeowner, please make sure to give our hotline a headsup if you have a pup on your beach tomorrow. We are monitoring Shamrock's health since she seemed to be thinner today. Thanks to our dedicated volunteers, many of them just trained last weekend, who have protected her the past few days in cold (and often wet) conditions!