Sad end for seal pup Tawnie
Sep/11/17 06:51 PM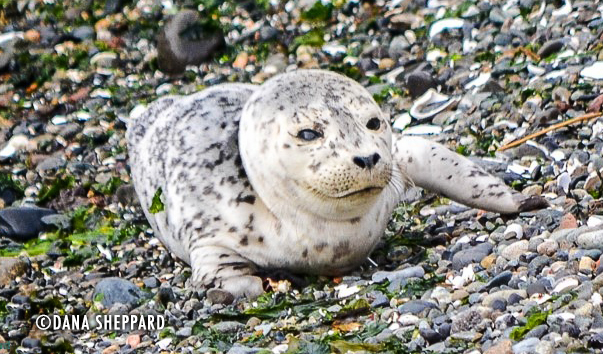 Yesterday afternoon, Seal Sitters hotline operator Kristen received a report about a dead seal pup across from Me-Kwa-Mooks Park on West Seattle's scenic Beach Drive.
When First Responders Dana and Robin arrived and peered down from the seawall, their worst fears were realized - the terribly thin pup
Tawnie
with the mysterious hump on his back was wrapped in kelp on the rocky beach. Tawnie (means "little one" in Gypsy) had been observed on a private beach late Friday afternoon (photo above). The pup returned to the Sound around 6pm, forced in by an encroaching tide and had not been seen since. It was thought that the hump was perhaps an abscess or injury to the spine. Volunteers had been on alert for the return of Tawnie in order to do a health assessment and treatment.
As the two responders approached the still, silvery body on the beach Monday, it was clear that the baseball-sized lump was not an abscess, but instead due to an injured or deformed spine. A phone call was place to WDFW marine mammal biologist Dyanna Lambourn to request a necropsy.
A quick on the beach exam by our responders revealed that Tawnie was male and measured only 77cm. The tiny body was placed in a cooler with ice and driven to WDFW's Lakewood lab that evening.
Dyanna performed the necropsy the following morning and reports that there was indeed a deformity to the spine and possibily the chest cavity. There were no obvious signs of recent trauma. It is like due to a birth defect, but a radiograph will be more definitive and she chose to keep the carcass intact for films.
Tawnie was horribly skinny, weighing a mere 10 kgs with only a .4 blubber thickness. According to Dyanna, the pup probably did fine while nursing, but once he was on his own, limited mobility would have posed challenges for Tawnie to forage effectively. What a very sad ending for such a gorgeous 1-2 month old pup.
We will provide an update once we get results from the radiographs. This has been a tough year so far! It's about time for some fat, happy blubberballs for us to look after.