Taffy continues to come ashore almost daily, health declining
Apr/27/17 08:50 PM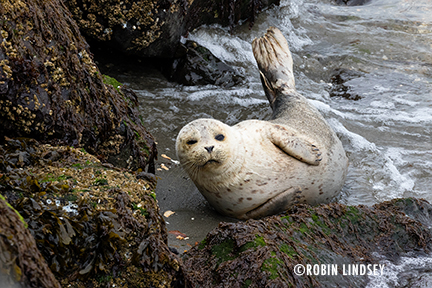 For over 4 weeks now, seal pup Taffy has come ashore almost daily at West Seattle's Alki Beach. Taffy's schedule has become less predictable as her health declines. She is battling not only injury to her fore flippers, but has been showing signs of respiratory issues with increased coughing jags. It's a tough start to life for harbor seal pups, who only have a 50/50 chance of surviving their first year, due to a number of factors including parasitic viral infections.
Unfortunately, chances for capture - and rehabilitation - have been challenging to say the least due to the limited access location, Taffy's hyper-awareness of any and all activity around her, and the fact that she is almost always just a few feet at most from the water's edge. An older pup, estimated about 8 months old, she is more worldly and much more aware of the dangers around her than newly-weaned pups (on their own at 4-6 weeks old) who will begin arriving to Seattle's shoreline in August thru October. Taffy has been scared into the water numerous times at Alki.
Seal Sitters First Responders hope to have a better chance at capture as she becomes more lethargic. Today, Taffy rested a bit too long onshore at a very low tide and had an arduous trip across two sandbars, forcing her to use her fore flippers, to get back to open water.