Buy a chowder during Art Fair and help seal pup Spud's buds
Jul/15/14 06:41 PM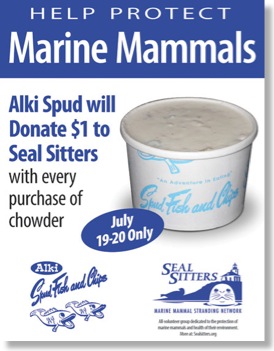 In 2007, a tiny seal pup flopped ashore on the sandy beach almost directly across from Alki Spud Fish and Chips (2666 Alki Ave SW -
map it)
. Concerned residents banded together to protect this vulnerable pup and nicknamed him Spud. This loosely formed group grew to be known as Seal Sitters.
Now a full-fledged member of NOAA's Marine Mammal Stranding Network with many operating expenses, Alki Spud Fish and Chips is helping Seal Sitters continue to help new generations of seal pups. All-volunteer Seal Sitters MMSN receives no funding from NOAA, the State or City for our work.
Spud's restaurant (Alki location only) is offering a promotion that will donate $1 for every chowder purchased this weekend during the Alki Art Fair, July 19-20th.
Spread the word to friends and family to chow down on some delicious chowder. Thanks so much to Spud Fish and Chips!
Seal Sitters MMSN depends on public donations. Can't participate in the promotion this weekend, but would like to help us out financially? You can
make a donation here
.
STOP BY SEAL SITTERS BOOTH AND ACTIVITY TABLE
If you attend the Fair, make sure to swing by Seal Sitters' booth along the Alki Promenade, where volunteers will be on duty answering questions and distributing educational materials. The Alki Art Fair is always a fun and lively event with lots of music, great art and food.
Like last year, we'll have craft activities for kids as well as free stickers and coloring sheets. Seal Sitters' first responder (and architectural illustrator) Lynn Shimamoto and her 7-year-old granddaughter Eleanor created some fantastic origami and paper cup seals which children can reproduce, adding their own whimsical touches.