4 dead pinnipeds on West Seattle beaches
Feb/11/10 11:28 PM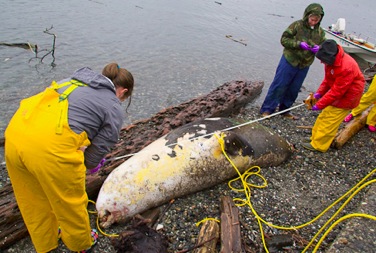 Two California sea lions and two harbor seals have been found dead on West Seattle beaches the past two days. While winter typically brings a fair amount of death to our shores because seal pups are struggling to survive, this volume seems unusual. A Department of Fish and Wildlife biologist and her team performed necropsies in hopes to get at the root cause of death. After the necropsies on the two adult male sea lions, they towed the carcasses out by boat to mid-channel to provide food for our eco-system. They worked for hours in a cold, pouring rain taking measurements of blubber layers, tissue samples and removing the skull for subsequent radiographs.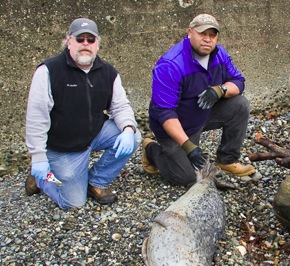 A crowd gathered above Constellation Park as the first CA sea lion (shown above) was examined and a bullet removed from the body. Results of the second necropsy are not known at this time. Both sea lions were estimated to have been 8-10 years old and in reasonably good health as determined by fat layers and other factors.
The body of the adult harbor seal was taken by the DFW for necropsy at their office. The decomposed body of a harbor seal on Constellation Park beach was buried by Parks earlier in the day. The bodies of the three marine mammals were secured with ropes by SS volunteers and Parks so that they would not go out with the tides before biologists could arrive on scene. Seal Sitters would like to thank Dan and Simi of Parks (shown at left with the harbor seal taken for necropsy) for their on-going help.
Please check back for updates as this story develops.