Rescued abandoned pup a likely victim of harassment
Aug/09/17 09:27 AM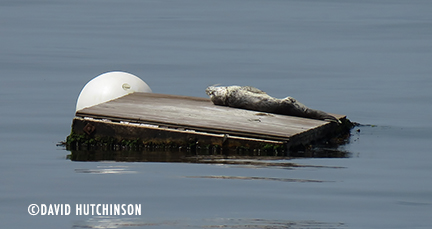 (see health update end of post) Yesterday's coordinated effort to capture a rail-thin, newborn harbor seal pup was a prime example of the often collaborative workings of NOAA's Marine Mammal Stranding Network members and supporting organizations.
Waterfront homeowners called Seal Sitters' hotline (206-905-7325) concerned that there was a possible dead seal pup on a raft off private beach property. While a number of seals had used the raft for the past couple of weeks, the pup had been entirely alone for two days. Seal Sitters responders were allowed access to assess the situation. We were informed that kayakers had been regularly coming within 10 or so feet of the raft recently and that a paddle boarder had even
sat
on the platform with the pup. This is an overt violation of the Marine Mammal Protection Act that protects marine mammals from illegal harassment. Is it any wonder that the pup was abandoned? Always stay back from resting seals.
After observing the horribly skinny pup for some time and seeing no movement, it was determined that the pup had indeed likely died. Responders left and brain-stormed a plan to retrieve the body by kayak. WDFW's Dyanna Lambourn was called to see if she could necropsy the pup if fresh-dead enough for tissue and blood samples. Just as that option was being put into motion, the homeowner called to say he had seen movement - the pup had lifted a flipper. Our recovery mission had just become a rescue.
Now, we had a new set of challenges. Capture of a live pup via kayak would be unlikely to succeed. A call was put into NOAA's Kristin Wilkinson to get permission to contact SR3, a new marine mammal-focused non-profit with a Zodiac vessel, to see if they might assist. Only members of the Marine Mammal Stranding Network are allowed to approach and handle marine mammals. Permission was granted. SR3 Director and Veterinarian Lesanna Lahner jumped at the opportunity to help.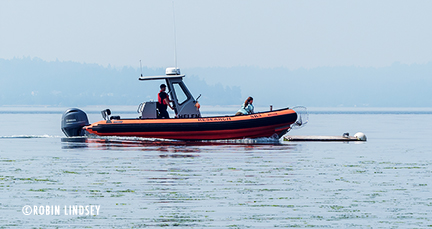 Later in the afternoon, Lesanna and marine biologist Doug Sandilands of SR3 rounded Alki Point in their black and orange Zodiac, headed for the small raft near Lowman Beach.
While SR3's Casey McLean waited with their new ambulance and SS Responders Robin, Lynn, David and Eilene observed from shore, the rescue was attempted. The first effort was unsuccessful as the pup, now nicknamed
Gilligan
, slipped off his small wooden island into Puget Sound as the boat got close and Lesanna swooped the landing net.
Lesanna and Doug waited patiently nearby for the pup to return. After about half an hour, the pup managed with difficulty to get back up onto the raft and settled in for a snooze. The boat roared into action (photo above) and, miraculously, Lesanna managed to scoop up the surprised animal and transfer him into a kennel.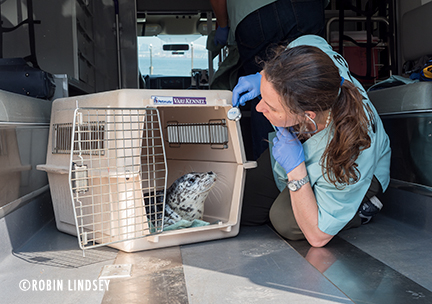 The ambulance and first responders met the boat at Don Armeni launch where Gilligan was given a quick exam and got a good look at Dr. Lesanna (at left) and the people who helped rescue him. The male pup weighed a mere 13 lbs and was driven to PAWS Wildlife Center in Lynnwood for stabilization and treatment.
We will post a health update once we hear from PAWS today. Because he is so thin and possibly has some pneumonia, Gilligan faces an uphill battle.
Huge thanks to the homeowners who not only reported this pup in trouble, but graciously allowed us access to assist in Gilligan's rescue. It was an exhilarating and rewarding effort by all involved!
PUPDATE 8/10/17

PAWS reports that Gilligan is doing okay, seemingly with no significant health issues except being grossly underweight. Further tests may reveal underlying causes.