Seal pup Sealy Dan hitches a ride on passing kayak
Nov/02/12 09:33 PM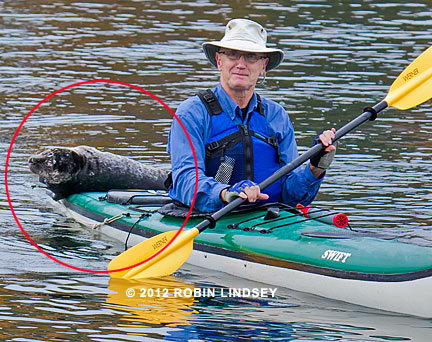 Two paddlers out for a journey in Elliott Bay this afternoon got a pleasant surprise when a seal pup's head broke the surface of the water and he swam alongside them around Harbor Island. Jeff Kelley remarked to his son Tyler, visiting from Brooklyn, that seals were curious and often liked to tag along.
They were stunned when the pup hopped onto Jeff's kayak. He straddled the back and promptly settled in for a snooze. Jeff said he had heard they "needed to rest", but fully expected the pup to stay only briefly. After about 30 minutes, the pup still showed no interest in returning to the water. Tyler managed to call Animal Control who referred them to Seal Sitters' hotline and operator Tess. When Tyler said, "There's a seal pup on the kayak - what do we do?", she immediately called our lead responder who was only minutes away and could see the two kayaks just offshore at Jack Block Park.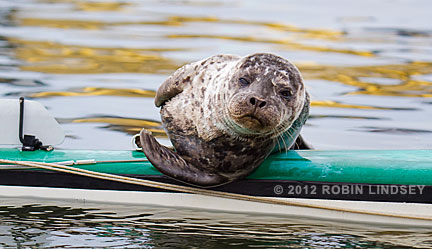 Hopping into her SUV with a PBS crew in tow (KCTS 9 is doing a segment on Seal Sitters), they dashed over to help out. The pup definitely was not interested in leaving the comfort of the kayak. Our responder suggested that Jeff give the pup a gentle little nudge that it was time to disembark. Not easily persuaded, the hitchhiker didn't budge. Then, we tried gently rocking the kayak back and forth, the pup slid off into the water and swam away. Jeff said it was truly a "blessing" that the pup had shared the ride.
This is not a violation of the Marine Mammal Protection Act because the pup came onto their craft. The boaters did exactly the right thing - they savored this amazing moment and respectfully allowed the pup some rest. Then, when it was time to move on, they quietly coaxed the animal into returning to the water. It is never advisable to paddle a far distance from where a pup hops on. A weaned animal might waste many precious calories returning to the previous location - or, if the pup is still nursing, the mom will not be able to locate her pup, who cannot survive without her. If in doubt, or if you think the animal is injured, call the stranding network hotline.
PBS reporter Katie Campbell and videographer Michael Werner were thrilled to video this unusual event for the segment they are working on. We do occasionally spot a seal pup lounging on a log out in the water - just this season off Lincoln Park. A tired pup is often not choosey about a
haulout
. Michael named the beautiful dark pup, Sealy Dan. Seal Sitters hopes Sealy Dan will visit our shore so we can assure him a good, long rest.