Small pup hauls out on sandy beach
Aug/14/11 11:21 PM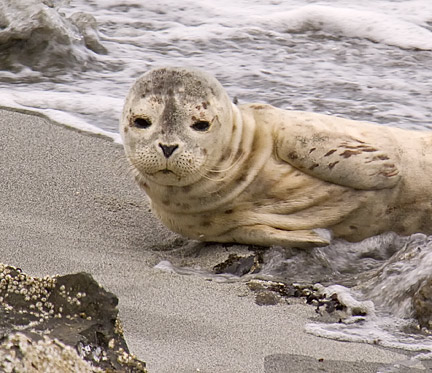 Small pups continue to visit the beaches of West Seattle. Early this morning we received a report of a little pup south of Constellation Park that had returned to the water during the night. The homeowner said she could see an adult seal swimming in the area. Another phone call came into the hotline this afternoon of a pup on a sandy stretch of West Seattle's city-side beach. The thin pup rested on the sand and reluctantly returned to the Sound at high tide. Nicknamed Sandy by a volunteer, the pup swam to a location just south of there, hauling out to rest until darkness fell. It is estimated from review of photos of erupted teeth that this pup is only a few weeks old.
Seal Sitters would like to extend special thanks to Greg and
Alki Kayak Tours
for being so cooperative in sharing the cove with this very sweet and very tired little pup - and for keeping people at bay until our volunteers could arrive on scene.
PUPDATE 8/15/11 12:30 pm: Sandy, a too thin pup who apparently has no attending mom, was still on the beach at sunrise this morning and was taken to PAWS. Please check back for updates.
PUPDATE 8/15/11 4:30pm: PAWS reports that Sandy is doing well at the facility. She is a female, but weighs a mere 7.1 kg (or 15.6 lbs). That weight is a full two pounds less than our little beauty,
Storm
, who we rescued from Lincoln Park last year - and who was successfully rehabbed and released by PAWS ten weeks later. A healthy pup being nursed by mom should weigh between 21-23 kg. Keep Sandy in your thoughts as she will undoubtedly face some challenges.