First seal pup of the season visits Lincoln Park
Aug/09/17 08:26 AM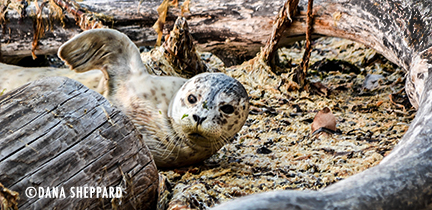 Seal Sitters volunteers had been wondering when our first newborn or weaned pup of the season would show up around West Seattle. That question was answered late on Sunday afternoon when Hotline Operator Kristen received a call about a pup onshore just north of the swimming pool at Lincoln Park.
First Responder Dana arrived on scene to find a tiny, velvety pup nestled near the woody debris, high on the beach just feet from the walking path. With the help of a few enthusiastic beach-goers, including the reporting party, she managed to get a quick perimeter in place around the resting pup.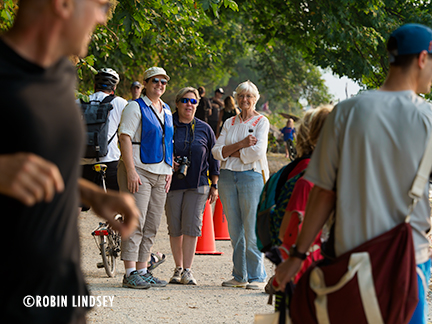 Volunteer Scheduler Molly began making calls to line up people to protect the vulnerable pup. Volunteers Allison and Karen put in long hours along with Lynn, David and Eilene, Buzz and Barbara - all trying their best to keep people moving along the walkway after taking a quick photo and avoid unnecessary disturbance to the tiny harbor seal.
We hoped to get a peek at the belly to see if there was an umbilical cord or stub to help us determine age. Murmuring "Roll over, roll over," Dana came up with the clever name of
Beethoven
. Eventually, Beethoven did roll over and we could see no stub. The pup yawned widely and showed numerous teeth that had not quite fully emerged. Assuming Beethoven was not born prematurely, he is probably about 3 weeks old and still nursing age. However, based on body weight and conditon, it was apparent that the mother had not been around, attending her pup. One of the many challenges a newborn pup faces is abandonment due to disturbance from people and dogs.
As darkness fell and Beethoven returned to the Sound, plans were put into place for a vet consultation and health assessment if the pup returned the following day to Lincoln Park or a nearby beach. Lincoln Park shoreline was scoured Monday morning, but Beethoven has not been sighted since.