Seal Sitters receives rave and pup makes a cameo appearance
Jan/21/14 07:23 PM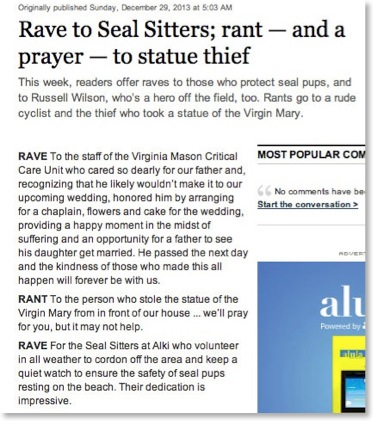 Recently, it was brought to our attention that someone from the public submitted a very kind comment about Seal Sitters to the Seattle Times. The compliment ran in the December 29th "Rant and Rave" column.
A thoughtful kudo goes a long way to warm up a volunteer who has braved the elements to protect a pup on the beach and educate passersby. We so appreciate the support of the public. We live in such a special and unique place filled with so many species of shore birds and marine mammals - all of whom deserve the space to rest and forage undisturbed in our Puget Sound waters.
There has been a lull of late in seal pup activity, though pups have been sighted on offshore platforms and resting in protected areas of Jack Block Park. This morning, however, Seal Sitters' hotline received a report from a ferry worker of a pup on the beach just south of the dock. Our responder arrived promptly, but the pup had returned to the Sound.
Late in the afternoon, the hotline rang again - this time about a pup near Colman Pool. Thanks to the
West Seattle Blog
's own Tracy Record for calling us and protecting the pup until our first responder arrived. The pup, possibly the same one from earlier in the day at the nearby Fauntleroy ferry dock, returned to the water shortly thereafter. Tracy nicknamed the pup, appropriately enough, Cameo, for his brief appearance. Perhaps Cameo will be back tomorrow.