Seattle Mayor McGinn declares September 8 "Harbor Seal Day"
Jul/11/13 07:23 AM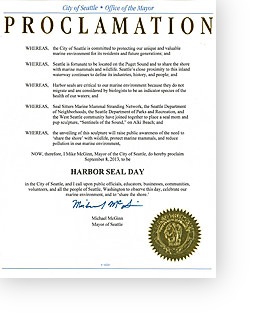 At the request of Seal Sitters MMSN, Seattle Mayor Mike McGinn has declared September 8th "Harbor Seal Day". Included in the proclamation is the text:
WHEREAS, Harbor seals are critical to our marine environment because they do not migrate and are considered by biologists to be an indicator species of the health of our waters; and

WHEREAS, Seal Sitters Marine Mammal Stranding Network, the Seattle Department of Neighborhoods, the Seattle Department of Parks and Recreation, and the West Seattle community have joined together to place a seal mom and pup sculpture, "Sentinels of the Sound," on Alki Beach; and

WHEREAS, the unveiling of this sculpture will raise public awareness of the need to "share the shore" with wildlife, protect marine mammals, and reduce pollution in our marine environment,

NOW, therefore, I Mike McGinn, Mayor of the City of Seattle, do hereby proclaim September 8, 2013 to be HARBOR SEAL DAY
View the full proclamation
here
. Thanks so much to the Mayor for helping to raise awareness about our fragile marine ecosystem! Please join us on "Harbor Seal Day" for our
sculpture
dedication and educational outreach event, Sunday September 8th from 1-4pm at the Alki Bathhouse site.